Hello Nasty, where you been? Can you even believe it's been 25 years since the Beastie Boys dropped their fifth full-length album? Celebrate this landmark release with an all-new intergalactic pair of signature poly blend socks.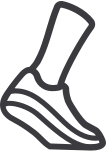 Crew
A classic sock height that hits the mid-point of your lower leg.

Medium Cushioning
Moderate cushioning throughout the sock for a secure fit with enhanced impact protection.

Deep Heel Pocket
Deep Heel Pockets complement your arch with that feel-good fit.

Engineered Arch Support
Engineered Arch Support stabilizes your swing in style.

Targeted Cushioning
Targeted Cushioning for added comfort where you need it most.
Seamless Toe Closure
Seamless Toe Closure for an anti-friction finish your feet will love.

Poly Blend
77% Polyester 19% Combed Cotton 2% Nylon 2% Elastane